Computer Lab .......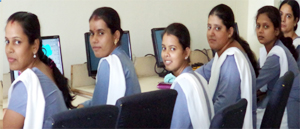 In the era of
Modern Technology
, our institute believes that besides being Computer literate, today's teacher must be able to bridge the gap between Information Technology and use in classroom teacher. The Institute has a Computer lab, which is equipped with the best and the latest equipment's and technology. Computers with the latest configuration are networked for imparting software and hardware skills to the students using latest software.
Class Room .......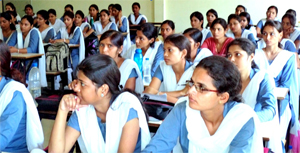 Teaching
to this Institute means imparting knowledge to the students by following a procedural oriented learning process. This institute provides well equipped, well ventilated, class rooms which shall impart knowledge to the new teachers Trainees. We have two large class room for lectures in compulsory paper. For Teaching of Elective subjects, Methods of teachings separate classroom with required member of seats and other faculties are available social Science room, Science room, Biology room, Commerce room Language room, room for Social useful productive work, computer lab technology lab etc. are available.   
Library.......

A
well-equipped Library
is one of the pillars of any progressive forward-looking education system. Our Library is well stocked with an adequate
collection of reference books ,textbooks, Indian Educational journals, University News ,Daily newspaper
s. Internet facilities are also available. The institute has the online memberships of DELNET through which the students and the faculty members can access national and international e-journals and e- resources. The staff is qualified and trained to provide efficient service to the students and to the faculty. One qualified Librarian is appointed to look in the Library matters. Peon and Book lifted is there to help the Librarian. A big riding room is the to study newspapers, formals, reeboks and daily Newspapers.
Psychology Lab .......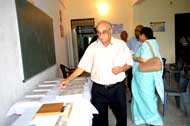 The
Psychology Laboratory
is another such feature of the Institute. Students are put to test on their behavioral pattern, mindset, flexibility of mind and action. Along with audiovisual aids and spotlights several self-evaluation exercises are given to the students, the reflexibility, alacrity, adaptability is marked. Many facts and figures that a person may have not known about his or her own self comes to the fore.
The
scientific habit
of thought process, reasoning and logic is enhanced and this heightens the intelligence of the student.
Science Lab .......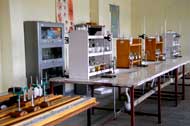 Rameshwaram Institute of Education & Training
has fully equipped ultra-
modern Science laboratories. Qualified faculty members and trained laboratory technicians
will help the students and guide them throughout the course. The college has made it mandatory for the students to spend as much time and satisfy their scientific curiosities as is rightly said "curiosity is the mother of invention".
Hostel .......
A
Fully Furnished
Modern Hostel are available for boys and girls separately with in the close proximity to the Institute. These Hostels are well furnished, have
24x7 security
arrangements. Hostel rooms are allotted on a double occupancy basis. These are allotted on first-come first-served basis. Students desirous of staying in the hostel are required to reserve the seat at the time of application for admission. Preference is given to outstation students. Details on the charges for boarding and lodging and hostel rules are available with the institute.
Cafeteria .......
The campus has a
Modern Cafeteria
well-furnished to cater to students' taste. Besides beverages and snacks, it has a provision for serving meals to day boarding students as well. There is big dining hall with modular kitchen conditional contract is given to those who can provide best service to the students.